The main symptoms of Coronavirus (COVID-19) include:
A high temperature – this means you feel hot to touch on your chest or back (you do not need to measure your temperature)
A new, continuous cough – this means coughing a lot for more than an hour, or 3 or more coughing episodes in 24 hours (if you usually have a cough, it may be worse than usual)
A loss or change to your sense of smell or taste – this means you've noticed you cannot smell or taste anything, or things smell or taste different to normal
When to order a Coronovirus Test
If you have symptoms, get a test as soon as possible and stay at home until you get your result. You need to get the test done in the first 5 days of having symptoms. To protect others, do not go to places like a GP surgery, pharmacy or hospital if you have any of these symptoms.
You have been in close contact with someone you feel may be positive for coronavirus.
We offer two types of tests:
Covid-19 (Coronavirus) Surface Swab Test – Test your hone of office for the presence of Coronavirus using our COVID-19 PCR with analysis by a DHSC approved lab – ideal to keep your environment safe with an effective way to know if viruses are present in your home, office, care home or workplace. Certificate of Analysis / Test Certificate provided.
FlowFlex Covid-19 Rapid Antigen Test (Single Test) – Approved by Public Health England & validated by the UK government. For Rapid Covid Testing, results in 15 minutes. Each kit contains everything required to carry out the tests, no additional equipment is needed.
Why get a Covid-19 Surface Swab Test?
The swabs can be used on any surfaces with a focus on high touch points where the risk is greatest. If the swabs yield a negative result, you can be confident that your workplace is clear of viruses, like COVID-19 or Norovirus. If the swab test yields a positive result, this confirms that the infectious virus was on the surface sampled indicating that someone with the virus was in that area.

How does it work? We will provide you with everything required to carry out the test. You can swab key high touch areas or others you consider to be high risk for virus exposure. Results are available within 24-48 hours of sample receipt.
Why get a FlowFlex Covid-19 Rapid Antigen Test?
You are an employer and wish to test employees during or before work
You are a company or organisation and wish to test patients, customers or visitors
You require on the spot results for coronavirus
Your employer, school or organisation require to undertake regular Covid-19 testing on site
You are looking for a UK government and Public Health England approved Covid Rapid Antigen Test
Order a COVID-19 Surface Swab Home Test – click here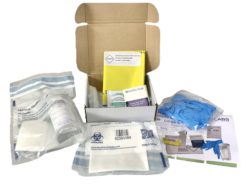 This laboratory surface swab test has been designed to check if SARS-CoV-2 (Covid-19) is present on a surface – ideal for testing in a home or small office.
Checking of surfaces for Covid-19 during an outbreak can be easier and cheaper than testing individuals. During an outbreak it ensures that cleaning and sanitising has been adhered to. Arranging a laboratory test is very easy and our service includes everything required to carry out the analysis.
Once you have ordered on our website, we will send you a kit, which includes a swab, clear instructions as well as pre-paid postage label and postage box to return the sample for laboratory analysis. Results will be available within 24 to 48 hours of receipt of the swab.
Order a FlowFlex Covid-19 Rapid Antigen Test (Single Test) – click here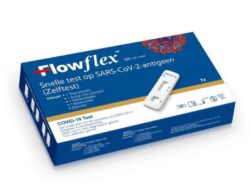 Ideal for rapid testing of Coronavirus in a work place, school or organisation. Each box contains 1 test for the rapid detection of coronavirus in 15 minutes.
The ACON Biotech Flowflex SARS-CoV-2 Antigen Rapid Test is UK Government Approved and FDA Approved click for full details
Only requires a 1-2cm nostril swab unlike the standard 9-10cm swab into the rear nasal canal used in other kits.
Offer rapid and accurate results within 15-30 minutes, giving you the reassurance of knowing whether you have the Coronavirus or not.
These test kits have the CE Mark of approval for home use, and are the test of choice used extensively at airports, global hotel chains and by NHS trusts in the UK.

Order your FlowFlex Covid-19 Rapid Antigen Test Kit Here
VIDEO –FlowFlex SARS-CoV-2 Antigen Rapid Test with Prefilled Extraction Buffer Tubes. Please always follow the written instructions provided with your kit:
Disclaimer: Only opinions based upon our own personal experience or information detailed in academic journals or other publications is cited. This has been done exclusively for anyone who is interested in this subject but is not intended to replace proper analysis. For COVID-19 & Coronavirus, please check the latest government websites and recommendations; because of the nature of this subject new research and development is available continuously.  We cannot accept responsibility and liability of any kind which may result from the application of this information. We always recommend to consult an expert to discuss any tests and test results or get a full recommendation on the specific subject and specific to your situation by an expert.
This information is owned by SimplexHealth and you do NOT have the right to reprint, sell, auction or distribute this information.